China's locally
2023-03-28 14:00:31 点击:
271
Shanghai (Gasgoo)-
In Oct. 2022, China's passenger vehicle (PV) retail sales amounted to 1.863 million units, growing 7.2% compared to the previous year, while dipping 4.4% from the previous month, according to the China Passenger Car Association (CPCA).
For clarity, the PVs hereby refer to the cars, MPV, SUVs, and minibuses locally produced on the Chinese mainland.
The association said the auto market is facing a stable sales growth thanks to the continuous improvement of logistics and supply chain operations, sufficient inventories, and the diminished impact of chip shortage.
Nevertheless, the traditional oil-fuel vehicle market was still saddled with sliding sales performance recently. In October, there were around 1.28 million conventional passenger vehicles (excluding new energy vehicles) retailed across China, representing an 8% year-on-year decline, versus the upward movement of 6% for the Jun.-Sept. period of this year. For the first ten months of 2022, retail sales of conventional passenger vehicles amounted to 12.28 million units, shrinking 13% from the previous year.
The CPCA commented that the car consumption demands from lower-/mid-income earners, who incline to choose an oil-fueled vehicle as their first car, remain to be further unleashed. Thus, the association suggests that the government should offer greater policy supports to the consumption of oil-fueled vehicles.
There were around 210,000 luxury PVs retailed across China in Oct., representing a 16% year-on-year leap, while reflecting a 29% month-on-month decline. The car purchase tax cut served as one of the major contributing factors to the premium car shopping.
Chinese indigenous PV brands recorded a combined retail sales volume of 940,000 units in Oct., which was 22% more than that of the year-ago period and also climbed 5% over the previous month.
The CPCA's data show that China's local brands accounted for 51.5% of the country's total PV retail volume in Oct., 6 percentage points higher than the prior-year level.
With about 700,000 PVs delivered last month, mainstream joint-venture brands in China posted a year-on-year decline of 9%, while also logged a month-on-month dip of 6%.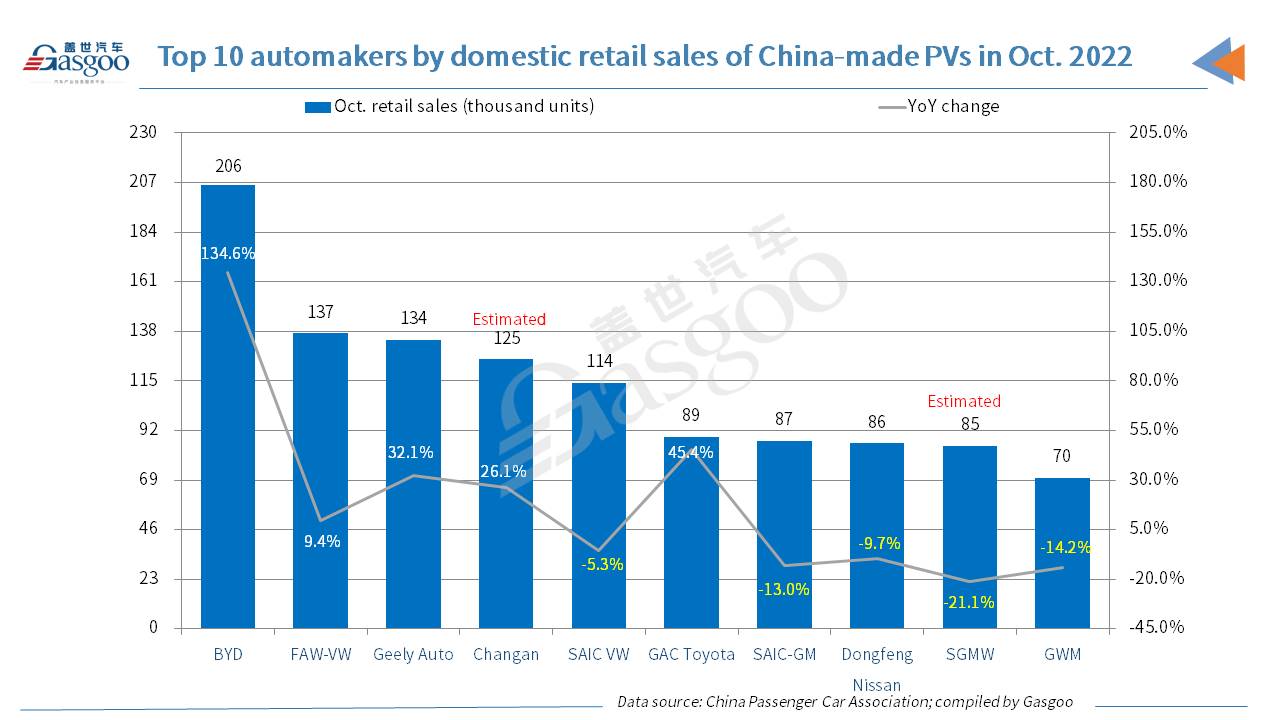 Among the top 10 automakers by Oct. PV retail sales, five companies—SAIC Volkswagen, SAIC-GM, Dongfeng Nissan, SGMW, and Great Wall Motor—faced a downward movement year-over-year. BYD ranked highest in terms of both sales volume and sales growth. Both Geely Auto and Changan scored a two-digit year-on-year growth.
China's monthly PV wholesale volume reached 2.22 million units in Oct., rising 10.7% year on year, while dropping 4.7% month on month.
With regard to the PV wholesale volume in Oct., BYD, Geely Auto, and Changan occupied the first three spots among automakers in China. Chery Auto ranked fifth with a blooming year-on-year growth of 55.5%. Among the top 10 automakers, the occupants of the last four spots all encountered a year-on-year downward movement.
According to the data compiled by the CPCA, China's passenger vehicle export volume (including complete vehicles and CKDs) amounted to 270,000 units last month, surging 42% from a year earlier and growing 13% from the previous month.